Patron Stories: Dwight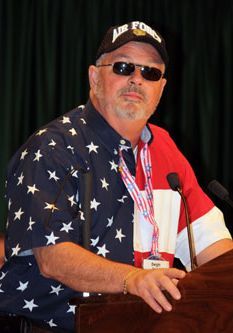 Dwight Sayer is committed to creating awareness for the blind in every sector of society. Dwight became a patron in 2011 and has been using our audio library ever since.
A Veteran of the Air Force, Mr. Sayer was Honorably/Medically Discharged in 1969 due to blindness and is the current President of the National Association of Blind Veterans - a Division of the N.F.B.
He has been involved in many different organizations always championing causes involving the blind and visually impaired. Of particular note, he is Immediate Past First Vice President of the National Federation of the Blind of Florida and Past President of the Greater Orlando Chapter of the NFB of Florida. Dwight has recently retired from the Consumer Advocate and Community Relations Manager position for MV Transportation, Inc, covering all of North America on ADA and Transportation issues dealing with disabled citizens riding fixed route and paratransit systems.
"I became a user (when Xavier Society's former Executive Director) Father John was elected as National Chaplain (of the N.A.B.V.) and I was introduced to the services of the Xavier Society. I am a 100% service connected disabled Veteran, and I have gotten several things in braille and large print that are not available through the Veterans Association. I am a super user of the audio library and do most of my communication digitally. Thanks to the training I have received from the VA'S Birmingham and West Palm Blind rehab centers I travel independently and go where I want to go and do what I want to do. Thanks big time to Xavier Society for the Blind as they have had the braille and large print items not available elsewhere. I pray you guys will continue to flourish."
Born in Rochester, New York, Mr. Sayer now resides in Florida with his wife Patty and two children.