Patron Stories: Valerie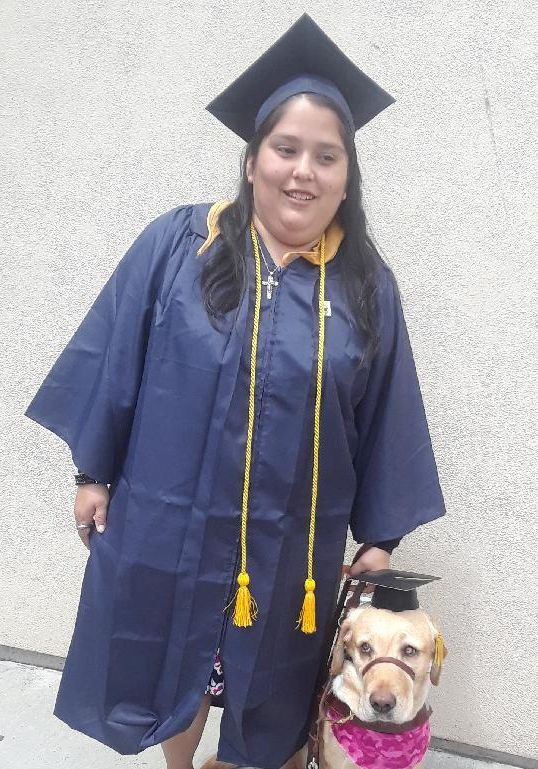 My name is Valerie Alcaraz. I am from California and have been totally blind since birth. I found out about Xavier Society for the Blind through a youth coordinator at Braille Institute, and have been a patron since 2002 (I was about 15 years old). I received the Propers of the Sunday Mass in hard copy Braille and got my first audio Bible on cassette tape from their library. I now get all my materials digitally since I frequently use a Braille display with my iPhone. I was really excited when I discovered that a book called Manual of Prayers and Devotions was available in BRF format since it was one of my best loved titles as a teen.
I graduated from Fullerton College with an Associate's degree in Visual Arts. For the last three months I have been in China teaching English to orphans who will most likely be adopted by English speaking families. This center is called Bethel, and is specifically geared toward early intervention for kids who are blind or visually impaired. Our school also takes in children whose families have been given the tools and support they need to keep their child, so we do a lot of outreach to families with visually impaired kids as well.
I have a guide dog named Gravity, but for various reasons, she wasn't able to come with me on this trip. I do miss her, but I know the work God has called me to here is worthwhile. I first heard about Bethel through a former student I had at my previous job. She originally came from China and her mom adopted her from Bethel. About a year later I followed Bethel's Facebook page, and I saw a post asking for volunteer English teachers. I'm the second blind person from the United States to come and teach, and it has been an amazing experience so far. I try to include art in my lessons when possible.
Aside from my passion for children, I enjoy all things art, especially making tactile art that is relatable for blind and sighted alike. I have done painting, drawing, and ceramics. God has led me on an amazing journey and I can't wait to see what happens next. XSB has been a big part of that journey and I am so grateful for all the material they provide in accessible formats. If you would, please keep Bethel in your prayers. You can keep up with me on my journey by reading my blog.